Urbandale Vinyl Signs
VIEW GALLERY
Vinyl graphics are at the core of many different types of promotional signs and graphics. From high-impact outdoor banners to wall murals, perforated window film, vehicle wraps, and even door lettering, vinyl plays many different roles in your business branding, product promotion, and customer attraction efforts. Iowa Sign Company is your Urbandale vinyl signs and graphics expert, delivering the high-quality vinyl graphic solutions your business needs.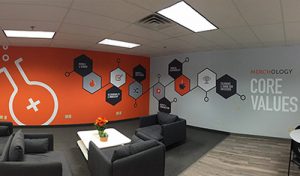 Vinyl is an outstanding addition to any business type. From using it to attract new customers to your retail business with eye-catching window graphics to seamlessly integrating wayfinding into the walls and floors of your facility, vinyl signs and graphics improve the customer experience in many different ways. They can also be used to remind staff of safety procedures, and motivational messaging to study areas for schools, or help you take your marketing mobile with vehicle wraps and event displays.
Whatever your need for effective vinyl signage, our experts deliver. We assist with providing complete branding packages for your entire facilities or for your event, can provide you with individual signage elements as your deem necessary to promote seasonal specials, or to replace outdated graphic elements. Our experts determine the right vinyl product and material to suit your needs, budget, and application.
Call Iowa Sign Company at (844) 232-9117 for your Free Consultation!
Promotional Vinyl Banners
Every business loves a good banner! Ideal for promoting your grand opening, supporting your sales team at a conference or event, or congratulating a life accomplishment, banners are seen by just about all of us on a daily basis. This is because they are so incredibly versatile and effective as a temporary and portable marketing tool.
Banners offer a wide array of applications for brand and business promotion, engagement, and awareness. Depending on your intended use, display location, and length of display, we can recommend many different finishing types and display alternatives so you can be confident your banner will meet your needs, fit your space, and last as long as you desire.
We provide high-quality custom indoor and outdoor banners, pop-up and retractable banners, hanging banners, full-color or single-color banners, and those intended for both long-term and short-term display. This means that whatever your banner needs, we are able to deliver a high-quality, suitable product every time.
Window Vinyl Clings & Film
Nothing is as eye-catching to a passer-by as an effective and impactful window display! While retailers have been a long-time fan of creating eye-catching window displays, service providers can also utilize vinyl graphic elements to share what they have to offer a potential shopper.
Window vinyl can consist of individual cut vinyl graphics, letters, and elements, or can consist of entire window coverings, either containing a promotional message or adding interest or explanation to your storefront.
Window displays can be used to highlight special offers, promotions, discounts, or events. Many retail businesses choose to frequently change their window displays, utilizing temporary vinyl clings for easy removal and replacement.
There are also options for a more permanent vinyl window film solution. Many service providers and professional organizations like doctors, dentists, therapists, and even intimate restaurants prefer to use an etched or frosted window covering that provides privacy to those within.
Most businesses enjoy the light their windows provide, however, swapping out entire glass panes for custom frosted panels is typically not an affordable or feasible option. Many organizations operate out of leased spaces, so frosted vinyl film is an outstanding alternative that accomplishes this professional and desirable finish without risking permanent property damage.
Cut Vinyl Lettering
While pictures can say a thousand words, there are still instances where literal words are needed to accomplish a goal.
Cut vinyl letters are an attractive and professional way for you to share important information. They can be used as part of your storefront, sharing your hours of operation, licensing, and accessibility information, spelling out your specific promotions, specials, or offers on your exterior windows, or can be used on walls, floors, and doors to assist with navigation and wayfinding.
Cut vinyl lettering can be used to create word clouds for your break room, to create safety warnings and assist with processes, or even integrated onto aluminum or other sign types for compelling supportive or promotional messaging.
Vinyl lettering can be custom produced to match your brand colors, fonts, and guidelines, meaning that it is easy to get unique and professional lettering that is more durable and less expensive than custom sign painting, and with a long-lasting, impressive finish.
Wall Murals & Floor Graphics
Digitally printed large-format vinyl graphics are an increasingly popular tool for many different business types and applications. Custom wall murals and large format graphics are an effective way to promote a productive workplace by motivating your staff or keeping them safe, as well as supporting wayfinding and company culture.
Since branded vinyl graphics can be easily applied to any smooth surface, including walls, windows, doors, ceilings, vehicles, and floors, there is an almost unlimited opportunity for your business to maximize your space for effective brand promotion or staff and customer support. Vinyl wall murals are now commonly found in classrooms, breakrooms, hallways and walkways, shared spaces, lobbies, conference rooms and meeting areas, and other areas where people gather or wait.
Printed vinyl wall murals are more longer-lasting, faster to produce, less expensive, less prone to errors, and easier to maintain than painted murals and graphics. Our wall mural experts assist with custom graphic design, high-quality digital mural printing, and expert on-site vinyl installation for a professional, attractive finish that will impress.
We have vinyl durable enough for every use and application- including your floors! High-traffic walkways, elevators, hallways, entryways, and lobbies can all benefit from promotional or navigational floor graphics.
High-visibility floor graphics can also be used to let staff and customers know about restricted or unsafe areas or floor graphics can even be used to assist with processes at warehouses, manufacturing, and distribution facilities. We design effective, supportive floor graphics that help you accomplish your goals.
Custom vinyl floor graphics can be created for application on most smooth flooring types, including wood, concrete, tile, asphalt, and even some low-pile carpets, both indoors and out. Whatever your need for effective and impactful vinyl graphics, Iowa Sign Company will deliver the right products to create the biggest impact possible for your signage budget and goals.
Vinyl Graphics Options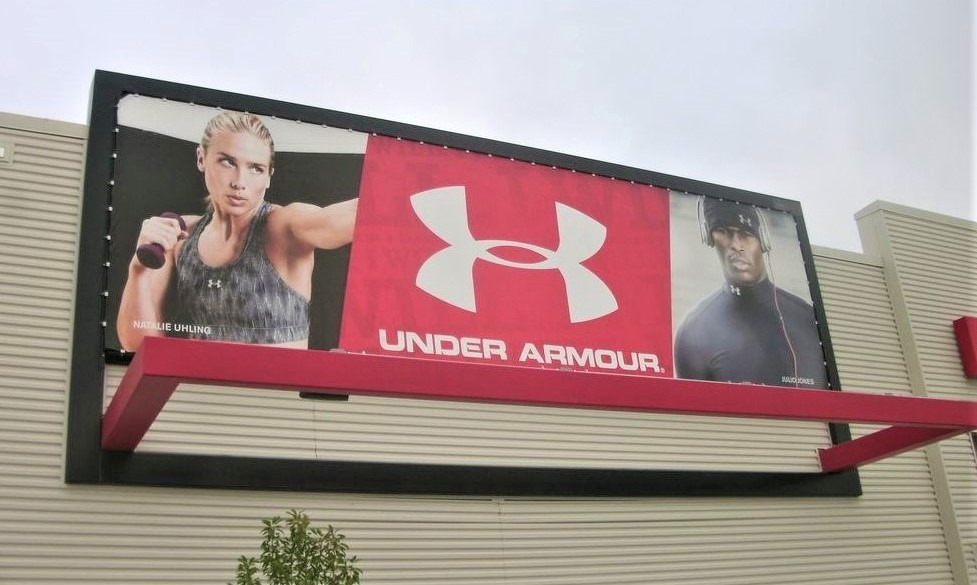 There is no single item that you will get when ordering a vinyl sign. Instead, vinyl signs and graphics consist of many different types of products, customizations, and finishing, meaning that ordering vinyl signage is truly a custom sign creation process.
Our experts determine with you how vinyl signage can be used effectively throughout your workspace, whether you have goals of client support, product promotion, or staff motivation. From commercial signage collections for various events, specials, and locations throughout your facility to single vinyl graphic elements, our Urbandale, IA vinyl sign experts ensure you have exactly what you need to support your goals.
Our vinyl sign and graphic products include:
Our specialists completely customize your commercial vinyl signs, graphics, banners, murals, lettering, wraps, and other elements. We incorporate your brand colors, logos, fonts, graphics, or any other creative elements or message you desire for your custom signage.
Full-Service Vinyl Graphic Shop
Your Urbandale vinyl sign and graphics company, we provide complete, dedicated service throughout your entire signage project. From assisting with signage concepts, placement, planning, and design, to environmentally conscious and waste-minimizing production and installation, we make sure your vinyl project is managed with accuracy, speed, and skill.
Our vinyl sign experts work with you, your team, and your brand, on projects of all sizes and scopes, and for any business type, and current signage level. Whether your business is just starting out, looking to rebrand, or you need a reliable partner to assist with seasonal updates and ongoing signage needs, Iowa Sign Company has the team, expertise, and skill to create effective, functional, and attractive signage for you.
We handle your vinyl signage project entirely, leaving you to freely focus on your business with the total confidence that your signage project is moving according to schedule, and all elements are being produced to your specifications. We even provide on-site professional vinyl installation, making sure your graphics are just as effective as they were designed to be.
Free Vinyl Signs & Graphics Consultation
Iowa Sign Company is your Urbandale vinyl signs and graphics company, delivering the high-quality, attractive vinyl signage products you need to support your brand, assist your customers, motivate your employees, and sell more products. From your windows to your walls, floors, doors, vehicles, and even off-site at promotional events, there is no place that vinyl signs, graphics, banners, clings, murals, film, wraps, and decals can't be utilized to support you.
Our vinyl signage experts will deliver the high-quality graphics your business needs, on-time, and within budget.
Call Iowa Sign Company at (844) 232-9117 for your Free Consultation with a Vinyl Graphics Specialist!