Zearing Vehicle Wraps
VIEW GALLERY
Immediately increase your brand visibility and promote your products and services everywhere you go with eye-catching, durable commercial vehicle wraps and graphics by Iowa Sign Company!
As a full-service Zearing vehicle wrap and graphic provider, our experts deliver the high-quality, long-lasting vinyl wraps, graphics, and lettering you need to promote your unique brand, business, products, and services. Whether you are driving to and from appointments, running errands on your personal time, even sitting at traffic lights, or parked at your business, your commercial vinyl wrap is hard at work. Branded work vehicle wraps help reinforce your business presence and brand personality while reminding and reassuring customers that you are available to assist them.
We produce cohesive commercial wraps for every vehicle in your company's fleet. From branded delivery van wraps and work truck wraps to tractor-trailer wraps, ATV wraps, boat wraps, or wraps for any other business vehicle, we deliver perfectly executed projects designed for maximum impact.
Call Iowa Sign Company at (844) 232-9117 for a Free Consultation!
Vinyl Graphics, Partial Wraps, & Magnets
We make sure you get the coverage level that is right for you. From complete, seamless full vehicle wraps to cut lettering, magnets, and finishing touches, our experts assist with determining the placement, design, and layout best suited to fit your specific vehicle, budget, brand, and needs.
Full Vehicle Wraps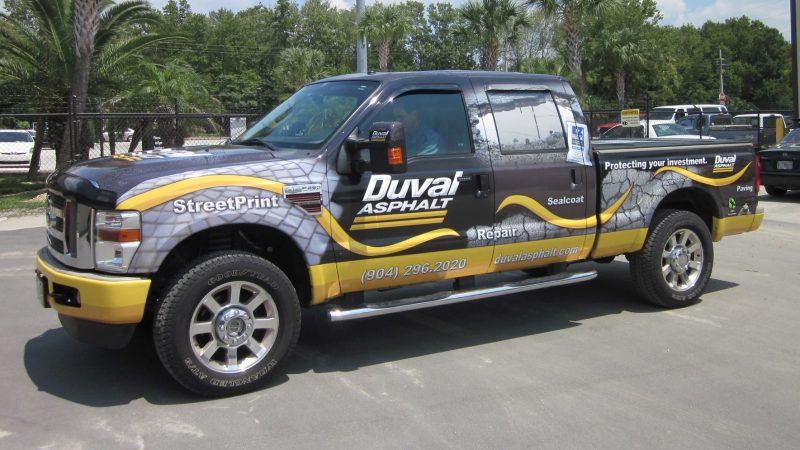 A full vehicle wrap allows you to utilize your entire vehicle as a canvas for your marketing message. This means that you have complete versatility in your design and layout, and can get the highest level of protection possible from your vehicle wrap product.
Whether you have a single truck or an entire fleet of vans, buses, cars, trailers, and more, our vehicle wrap design experts can ensure that your specific marketing message is attractive, compelling, and high-impact. This means not only making sure placement is impeccable, but also that it is of appropriate size and legibility for your needs. Most importantly, we want your wrap to be memorable and eye-catching, which is why we utilize high-color designs, graphics, and smart layouts to highlight your most important messaging.
Partial Car Wraps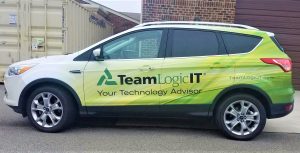 Not every business requires a complete transformation of their corporate vehicles. If you have a simple message you would like to convey, or only want to utilize a specific area of your commercial vehicle for promotion, then partial vehicle wraps are an affordable alternative to full wraps.
Full wraps provide seamless and complete coverage for your vehicle. Partial wraps will provide that same level of coverage, but only to the areas where the wrap is applied. For example, if you contain your messaging to your door panels, then those panels will be completely wrapped with a protective film that promotes your message. You can wrap just about any aspect of your vehicle, including bumpers, doors, side panels, hoods, tailgates, even roofs, side view mirrors, and windows.
Vinyl Graphics & Lettering
Sometimes simple is best. Cut vinyl graphics and letters allow you to apply exactly what messaging you want, wherever you want it. This allows for greater flexibility in updating your messaging in the future and is a common request for those who only need the most basic of designs, such as DOT or licensing numbers that are required on commercial vehicles.
Cut vinyl graphics, images, and lettering can also be a great way to "try-on" a design, or allow you to run multiple tests to see what will be most effective. This is great for new or start-up companies who may still change their phone number, web address, or even their marketing message during this early testing phase. These work well for simple logos, short messaging, or for those who are investing in graphics for a large number of vehicles at an affordable cost.
Vehicle Magnets
Some organizations face limitations on when and where they are allowed to market their business, or may even utilize the same vehicle for multiple businesses. This doesn't mean your vehicle can't still be used as an effective marketing tool!
Vehicle magnets are a highly-customizable alternative. Custom crafted to your desires, they can be full-color and funky shapes, or simple, straightforward, and easy to read rectangle designs. They are very easy to remove, replace, or reposition, meaning you can control when, where, and how you market your brand.
You can easily move your magnet from one vehicle to the next, or remove it entirely for privacy on your personal time. Then, when it is time to work again, you don't lose any time in promoting your business again.
Perforated Window Film
Finishing your wrap with impactful touches can be the ultimate in professionalism. Wrapping your side-view mirrors and door handles to incorporate them seamlessly into your design is just one method for wrap finishing.
Another popular tool for finishing your look is to include perforated window film and vinyl window graphics. This innovative film promotes your messaging to all who view it from the outside, while providing privacy, protection from the sun, and an unobstructed view for those within your vehicle.
Regardless of your commercial vehicle wrapping needs, our Zearing vehicle wrap and graphic experts are dedicated to delivering a high-quality, eye-catching, and effective wrap solution for your business and brand.
Professional Wraps For All Vehicle Types
If you want your business and brand to be noticed, we have the solution for you. From full semi-truck and trailer wraps and graphics to promotional magnets for your corporate car, we tackle commercial vehicle wrap projects of all sizes, shapes, and scope with dedicated experience, skill, and expertise.
We make sure you look great, handling every aspect of your wrap project from the initial layout and design to earth-friendly production and waste-reducing installation. Our Zearing vehicle wrap and graphic experts ensure that your finished vehicle wrap or graphic product fits your expectations, as well as our high standards for quality craftsmanship. Our specialists understand how to effectively highlight your key value statements and most desirable business attributes, what images best depict your brand personality, and will produce a final design that suits your vehicle's shape and curves and fits the needs of your business.
Our commercial vehicle wrap and graphic services include:
In addition to our full Zearing vehicle wrap and graphic products, Iowa Sign Company delivers high-quality signs and graphics for any and every commercial need, including customer supportive indoor signs, product promoting outdoor signs, and any other custom signs, graphics, or wraps you will ever need.
Attractive Wraps for Your Entire Fleet
Branded, cohesive fleet wraps and graphics for all of your corporate vehicles will only amplify the benefits corporate graphics provide.
We can customize your layout and message to perfectly fit and suit all the different types of vehicles in your commercial fleet, from trucks and trailers to corporate cars, delivery vans, work trucks, ATVs, and any other vehicle type.
Branded vehicle graphics are especially beneficial for those who visit clients and customers in their homes. The confidence a branded wrap provides extends to your representative, reducing the friction of the initial introduction. Customer-focused graphics work well for electricians, plumbers, exterminators, cable installers, fence contractors, and other repair or installation experts that frequently make house calls.
Coordinating fleet vehicle wraps provide both professionalism and visibility to your brand, while lending authority to your team, and security to your customers.
Full-Service Vehicle Wrapping
Our Zearing, IA vehicle wrap experts understand how important it is to get your messaging right. That is why we have a full team of specialists, from designers to fabricators and installers, who can ensure that you get the most effective wrap possible to support your business and brand, while protecting your vehicle and investment.
Your commercial vinyl wrap is only as effective as your design, materials, layout, and installation. We know that all of these elements are vital to creating an impactful vehicle wrap that supports your business and highlights your brand. We work diligently to create the ideal wrap, graphic, or magnet for your specific vehicle type, promotional purpose, and specific use. Our wrap and graphic experts provide the right materials, ideas, and advice to make sure you have the most effective wrap products to meet and exceed your needs.
Free Vehicle Wrap Consultation
For every corporate vehicle, every level of coverage, and every type of vehicle graphic application, Iowa Sign Company is your dedicated and experienced Iowa vehicle wrap provider.
Delivering high-quality, high-impact, and durable vehicle wraps, graphics, lettering, and magnets, our experts create attractive signage elements that you can use to promote your brand and business everywhere. Vehicle wraps easily increase your brand visibility and allow you to reach more new potential customers than ever before possible.
We are excited to deliver the high-quality, branded, and professional vehicle wraps and graphics you need to create a big impact on your local market!
Call Iowa Sign Company at (844) 232-9117 for your Free Consultation with a Vehicle Wrap Specialist!